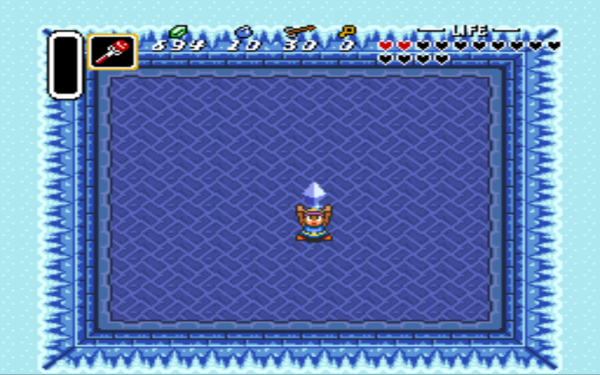 Yes, my fellow Grigadeers, our dreams shall be fulfilled! Because eight months after I last picked up my mocked up USB-Saturn pad to play SNES Zelda on my Mac (what is this weird, chimeric world we live in?!) – I'm back in Hyrule and whupping pixellated buttcheeks left, right and, yes, by all means, centre! (Wait, does that mean ringpiece?)
Well, battered 16-bit bungholes or no, the cheers are echoing around Grig Towers as, instantly as I journeyed back into the dark world, another dungeon has fallen. This time it was the turn of the Ice Palace where a weird set of floating eyeballs lay hidden in a giant icy jelly – quite why exactly, no one is sure. But just in case, I slashed them to bits. Nindeed.
So that's five down and two to go. Shaking in his manky wizard boots is old Ganon, oh yes.
In one small moment of sadness, I'm fairly certain I've already done that dungeon and was actually making my way through the sixth one last time I played it. Suggesting I've picked up a dodgy old save game and today's efforts were naught but repetition. But hey-ho – we're back in the action. Watch out dark world minions – I've got a Master Sword and I'm not afraid to use it…
And here, on a completely unrelated note to the story, is the reason for its title. In case you were interested…
Corporal Ferro enjoying her 14 seconds of fame…