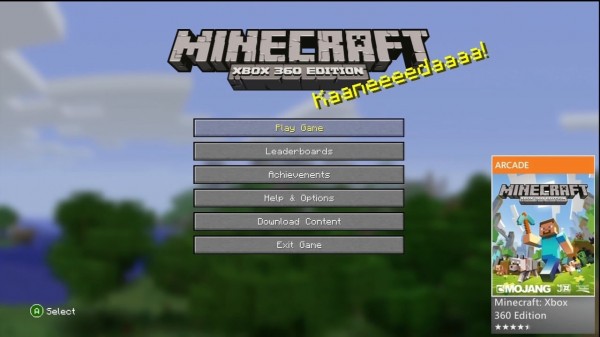 As Mojang handed over the reigns of an XBLA port of Minecraft to developer 4J Studios last year, the game has been hotly anticipated by fans, and fan fare marketed by the big Microsoft, first at the 2011 E3 expo nearly a Year ago, and more recently in the NEXT Arcade promotion, kinda like the summer of arcade but in spring. It's fair to say that Microsoft wanted this to happen badly, and there is some speculation of just how good a contract notch and team got with this bad boy, as apparently the update model for Minecraft is breaking the norm, a lot of developers are not so lucky with the promises regarding updates.
Anyway, ground work spiel aside, it has been publicly broadcast across the twittersphere that Mincraft was profitable in the first hour of release, thats over a years worth of development by a third party studio payed for, and whatever else goes into an XBLA release, covered in an hour, not just any hour, this is an hour where a large part of the world, is sleeping or working, or in some form of schooling. the hour when people look, its not there, they come back an hour later. but no, it did what it had to do in that first one.
Also causing a smidgin of controversy maybe is how notch knows that they've sold over 400,000 Minecraft XBLA titles, later claiming its form the leader board count after the developers of Fex said they were not privy to their stats even a month after release, and some stating that its only when they get the first check 3 months later that they can really see what happened. Apparently Microsoft like to keep stats close to their chest, even when marketing how great their sales are. As other NEXT Arcade line ups have been breaking records for fastest or largest sales in the first 24 hours or whatever, both Fez and the new Trials Evolution HD were publicized as fast movers and shakers.