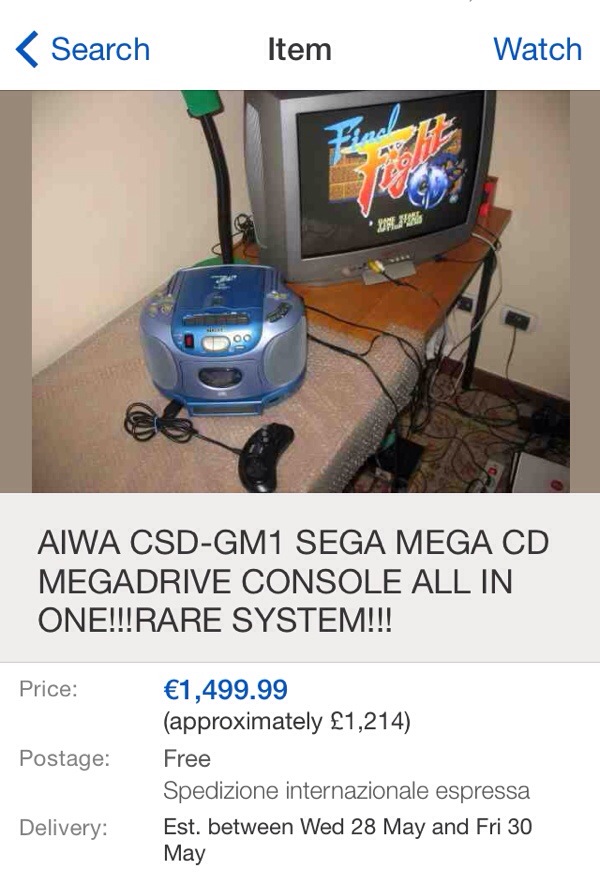 So another SEGA machine-mystery rumbled into town this week when my ongoing eBay hunt for a Mega CD turned up this little number – a hi-fi that the seller claims is a combination boom box/ megadrive and Mega CD.
Um…
At first, my spidey-senses called hoax as this geeza has clearly plugged a knock-off Megadrive pad into a cassette player. No dice amigo! Just because you're asking £1500 dibbers for it , doesn't mean I believe it's anything more than a crappy hi-fi…
But then I saw the seller had good feedback, and had posted a load of detail – including a product ID. And lo! Google has a whole raft of similar pictures and this lowly pile of AIWA buh does indeed play the mighty Snatcher!
Who'd have thunk it?
Still. You'd have to be a) a mega fan and b) utterly minted to consider parting with 1500 clams to own this ugly sonofabitch. Especially as my google search revealed they're prone to breaking down all over the shop… Nope – class mark 1 for me, please. Now I just need to find one for cheap…