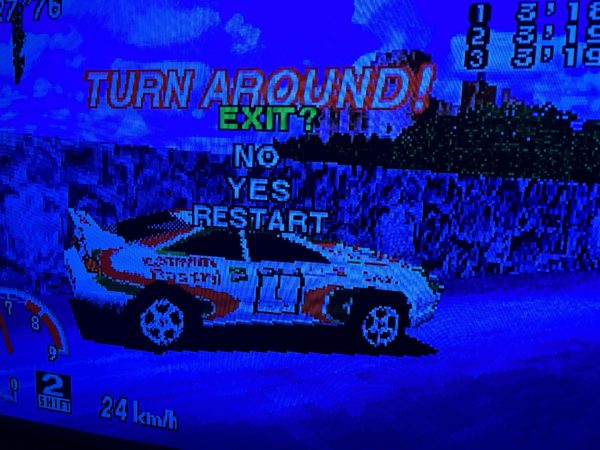 Howdy SEGA fans! How's the most depressing month of the year treating ya? Are you face-down in a pool of your own self-loathing? Knee-deep in a dung-pile of your own ennui?
Us too!
And why are we so painfully depressed you might cry?
Why, Sega Rally of course!
"Sega's 1995 racer has got us knee-deep in a dung pile of ennui"
Since 2023 came hurtling round the track, like a Lancia Delta gunning for my rear fender, us here GRiG Boys have been pedal to the metal and the thing to the floor playing Sega's 1995 racing gem. And as the competition's now heating up (by which I mean I've learned how to do the gears after 26 years) we figured it was time to do a li'l pitstop to let you folks know how it's going.
Sooooo… as at end of January the leaderboard is showing…
Dibbs / Pom / Numbnuts / Jackass – 1st place with 3'16″96
Boomer / Boner / Diki – 2nd place with 3'18″37
Legend / Bedgell / Studmuffin – Bringing up the rear with 3'18″39
(All times on single lap Arcade mode, Desert / Forest / Mountain)
And that's all for now. It's gone midnight so I'm gonna go cry myself to sleep hugging my Saturn pad and whispering dolefully about that time I did a perfect hairpin on Mountain. We'll be back in February to announce my Phoenix-like comeback and, gosh, who knows, maybe some actual content! Until then Grigadiers!!