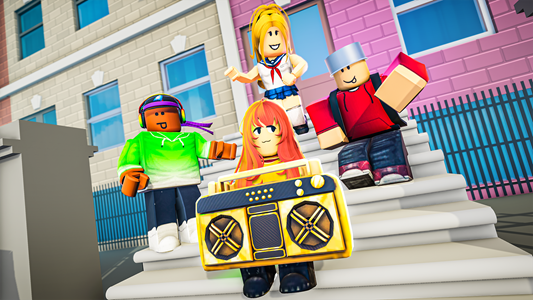 To Roblox now, and yet another affront to my old man notions of what culture should look like. Because those crazy loons over at Warner Music Group have decided to do away with RECORDS, and forget all about TAPES, and even ditch the trusty CD! And instead ask fans to find new tunes in a "first-of-its-kind music-themed social roleplay experience".
Good Lord!
(Personally, I like to role-play my social experience by going to Woolworths with some pals and buying the new David Gray CD for £9.99. But I suppose that's too old fashioned for kids these days.)
Warner have teamed up with Gamefam – makers of such hits as Funky Friday and Tower of Misery – to deliver their big idea which promises users the opportunity to explore, dance, and bond with friends while competing in mini-music challenges. And if that wasn't thrilling enough to have you reaching for your Robux, Rhythm City will also host virtual concerts and events featuring select WMG artists.
Boom!
Now, if you're a cynic like me and you're thinking "Wait! Surely Roblox would only attract soulless, tuneless hacks to shill their wares in such an egregious fashion?" then think again pop-fans! Because Warner's got form in this field and has previously persuaded such scions of the zeitgeist as Twenty One Pilots, David Guetta and Royal Blood to turn up in block-headed form and strut their Robloxian stuff.
Crikey!
This new fangled, yoof-of-today gimmeckery will launch from Feb 4th. We can barely wait!