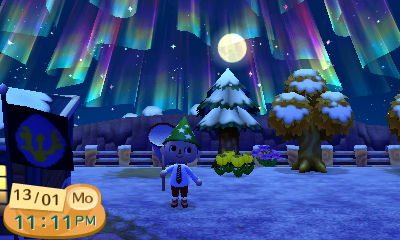 When I went to Japan in the summer of 2013 I thought animal crossing would be a good game to get in case there were any street pass opportunities. As it turned out there wasn't really, nothing useful anyway, at least not at my stage of the game, but since then I've had a perfect fruit off one of my cherry trees, once planted it then gives me an extra 3 perfect cherries every few days and will do so for a good 3 or 4 harvests. These are now worth 6 times my normal cherry price of 100 bells (currency), but pears and apple in my town are worth 5X as just a regular fruit, so imagine what this would mean in a town where cherries are not the native fruit, I could make a fortune, and this was a lost opportunity, yet still I harvest, it's an addiction.
But it turns out this isn't event the best way to make easy bells, for evening fishing on the island can net 300,000 bells in a space of between 30-40 minutes, that's half an upgraded room, which is the real point to the chores. Upgrading the house, buying furniture and odd nik naks to fit in, but why, why is this so irresistible, and will I stop when I get it, will will find out soon enough as I've only 2 upgrades left. My town has seen the shop upgraded thrice, the museum has a shop upstairs and exhibit space so I can store more junk, and in the last week I built the cafe which I totally wasn't expecting.
Of all the games in recent years, this has taken up the most of my time, and I hate the farmvilles and fishing whatever games that grew in popularity on facebook, but this game just does something different, something with style, care and finesse. And I love it. I can't explain it but I love it.
Public work projects
These are projects that you can choose from a list and as mayor you set these going and mostly fund yourself though the town folk to put a few bells in, but mostly this is more chore work that distracts from the home improvements.